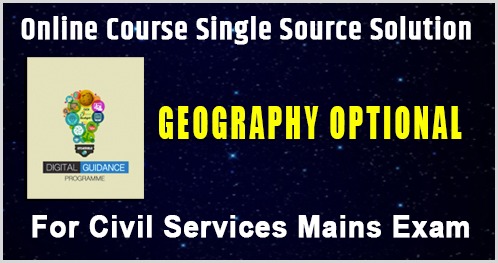 Geography Optional
Instructor: K. Siddhartha
Language: English
Validity Period: 365 days
₹29500
GEOGRAPHY OPTIONAL
ONLINE GEOGRAPHY OPTIONAL
The Digital/Distance Guidance Programme of ENSEMBLE is India's first postal-online-integrated programme. The postal component Distance Guidance Programme is available through books (in postage), through e-books and its lecture is available through the multimedia/animation video lectures and documentaries and class lectures. The entire DGP consists of:
Books either in printed form or digital form (e-books).
Backup of books through multimedia and animation based video lectures as well as classroom lectures.
Practice Online Tests along with evaluation.
What do you get?
1. Animated video lectures prepared in documentary form with a story like explanation. Animated videos are prepared by the best animation experts, choicest video galleries, original footage laced with authenticated facts to ease your understanding, increase retentivity and improve imagination. A two-hour of the classroom is reduced to just half an hour of fun watching and learning.
2. Some explanatory videos in a classroom atmosphere as well as separately recorded lectures.
3. A complete study material (Short Smart Study) in a structured form will be made available to you either via post or print out or in any electronic form. The chapter includes everything that the topic requires. It is a formidable compilation drawn from the best sources available in the world for Civil Services-NCERT, SCERT, Government Reports, The Hindu, Yojana, Kurukshetra…….and what not. Nothing is required beyond that.
The books that will be sent includes
Basic Geography
The Earth's Dynamic Surface
Atmosphere, Weather, and Climate
Oceanography; A Brief Introduction
Ecology and Environment
Economic Geography
Cities Urbanisation and Urban System
Models in Geography
Indian Industry
Dictionary of Geography
SSS series on Geography
4. A well-prepared synopsis in a simple manner, which will form the basis of the class well as for super quick revision. Synopsis of chapters that they can download from the website.
5. A list of all possible type of questions asked in a variety of ways. This is so because you don't miss out on any question and of any type of question that may possibly be asked. Apart from that you will get the previous year questions separated section/chapterwise.
6. User ID and Password will be provided from Ensemble to provide access for this course which will be valid for 1 year from the date of enrolment.
BEFORE THE CLASS
Advisory
The Students must revise their 6th to 12th standard books.
They must develop a complete acquaintance over World Geography locations.
Modus operandi of the class on how to utilize best online class
1. Students must acquaint themselves with the schedule as suggested by ENSEMBLE.
2. The students must watch the class having studied the topics beforehand to gain maximum out of the class. They can even revise the chapter by seeing it multiple times.
3. They can keep the print out of synopsis in front of them.
4. After one section is over.
(a) Fortnightly assignments on topics already taught.
(b) A doubt clearing session every weakened.
The validity of this course will be 1 year.
Fee For the Course: Rs.- 29500/-
Enrolment may be done any time at the comfort of the aspirants.
Sequencing of the topic
Paper 1
Human Geography
Economic Geography
Settlement Geography
Population Geography
Models, Theories and Laws in Human Geography
Perspectives in Human Geography
Physical Geography
Geomorphology
Climatology
Oceanography
Bio Environmental Geography
Paper 2
India Physical Setting & Natural Events
India Resources
Ind. Agriculture
Ind. Industry
Transport
Settlement
Cultural Setting
Regional Planning
Regional Development and Planning
Political Aspects
The topics of Paper II have been combined or recombined in some form to facilitate easy study and understanding that includes fusion of Contemporary Issues, Regional Planning, and Cultural Setting. Some of the topics will be absent from discussion although they will be provided with complete study material.