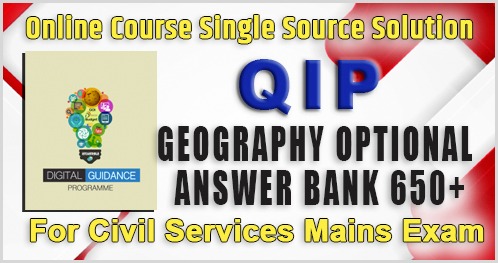 Geography QIP (2018)
Instructor: K. Siddhartha
Language: English
Validity Period: 365 days
₹5997
Where every answer can change your fortune
Quality Improvement
Programme (QIP) 2018
For
GEOGRAPHY OPTIONAL—2018 Mains
By K. Siddhartha
Fee : ₹5997/-
About the Programme
Have a complete command over 600+ High quality answers to the toughest questions imaginable
Drawn from all unknown unheard of sources from where model answers are made.
With flow chart
With diagram
A recorded explanation by K. Siddhartha Sir that makes it easy for you to memorize the answers.
Completely oriented to the needs of Mains 2018.
For whom it is?
All students who have studied Geography, have done their classes of Geography and are finding difficulty in fathoming the new changes in the subject for Mains 2018.
All of those who are still in half way preparation but finding it difficult to be confident to write answers in the subject for Mains 18.
The Aim
Deciphering the psyche of the examiner, Decoding the "New Trend of Geography".
Learning the Art of forming interlink ages, with special emphasis on the current trends in the subject.
Programme Structure and Composition
15 Sessions of Lectures
330+ recorded explanatory answers through Webinar/recorded video, which you can replay multiple times.
300 Model answers
Special Emphasis on Perspectives on Geography time wise, Number of Questions and
1 complete Test with explanation
Two online face to face Problem Solving Sessionswith an interactive discussion.
Video feedback of best and not so good answers of selective candidates chosen on set criteria by K. Siddhartha Sir himself, and on similar lines as Essay discussion on YouTube link.
3. Schedule
Sessions

Topics

Main Emphasis

1

Ways to write answers and deciphering the meaning of tail words.

Introduction with lesser known topics, art of compacting the syllabus and forging Interlinkages

Getting Ready

Simplification

Basic Correction

2

SETTLEMENT GEOGRAPHY

Interrelationship

Avoiding mistakes due to simplification perspective.

Structuring answers

3

ECONOMIC & MODELS THEORIES

Interrelationship

Avoiding mistakes due to simplification perspective.

Structuring answers

4

ECONOMIC & MODELS THEORIES

Interrelationship

Avoiding mistakes due to simplification perspective.

Structuring answers

5

GEOMORPHOLOGY

Simplification of Complexity

Avoiding mistakes during drawing and illustration

Compacting the language

Interrelationship development

6

CLIMATOLOGY

Simplification of Complexity

Avoiding mistakes during drawing and illustration

Compacting the language

Interrelationship development

7

OCEANOGRAPHY

Simplification of Complexity

Avoiding mistakes during drawing and illustration

Compacting the language

Interrelationship development

8

BIO ENVIRONMENTAL GEOGRAPHY

Simplification of Complexity

Avoiding mistakes during drawing and illustration

Compacting the language

Interrelationship development

9

INDIA PHYSICAL ASPECT

Simplification of Complexity

Avoiding mistakes during drawing and illustration

Compacting the language

Interrelationship development

10

INDIA NATURAL EVENTS AND CONTEMPORARAY

Avoiding mistakes due to simplification perspective.

Structuring answers

11

INDIA RESOURCES

Intra and Interdisciplinary Interrelationship

Avoiding mistakes due to simplification perspective.

Structuring answers

12

INDIA AGRICULTURE

Intra and Interdisciplinary Interrelationship

Avoiding mistakes due to simplification perspective.

Structuring answers

13

INDIA INDUSTRY TRANSPORT

Intra and Interdisciplinary Interrelationship

Avoiding mistakes due to simplification perspective.

Structuring answers

14

REGIONAL PLANNING

Structuring answers

15

POLITICAL GEOGRAPHY

Integrating it with GS

Intra and Interdisciplinary Interrelationship

Comprehending the question

16

PERSPECTIVES IN GEOGRAPHY

Comprehending the question

Simplifying the answer.

Use of language

17

Revision Test

Expected topic Identification
25th August&15/16th Sept 18: Two online face to face Problem Solving Sessions
(Please download https://zoom.us/ application)